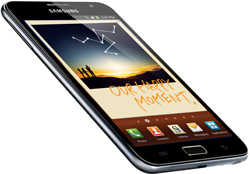 Samsung
has announced that their surprise blockbuster hit, the
Galaxy Note
, has reached 10 million units sold.
As of March, the company had celebrated 5 million sold, so in the last few months, sales have remained steady since launch.
Before launch, Samsung admitted the device was somewhat of an experiment, as its large 5.3-inch screen had never really been seen on a dedicated smartphone before.
Dell
had released a tablet/phone hybrid before it with a similar sized screen, but it was a failure.
Due to the strong sales, Samsung is said to be actively developing the sequel, for launch in the next couple of months.
If all the rumors prove accurate, the new smartphone will have a flexible AMOLED display, the first of its kind in an American consumer phone. While it is not expected to be completely bendable, there is a chance it will be curved in some way adding to viewing angles. The AMOLED will use an Unbreakable Plane (UBP) and some sort of plastic that will reduce thickness by as much as 0.4mm.
The screen will be 5.5-inches, and the device is expected to be powered by a quad-core processor and 2GB
RAM
.