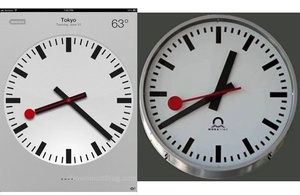 Apple
has agreed to license the iconic clock created by the Swiss national railway (SBB).
Last month, Apple's latest
iOS
operating system finally gave iFans a native clock app, and most new users found the app to be "beautiful" or "gorgeous." However, fans were not the only ones to notice the style of the new app, and the SBB accused the company of stealing the design.
Apple's design is "identical" to their own, which was created in 1944 and trademarked, said the spokesperson at the time, and they certainly had a point.
As of today, the two companies have agreed to a licensing agreement although neither company disclosed the financials.