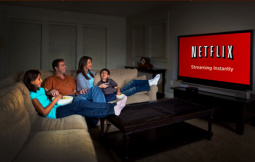 Rumor bumped Netflix shares on Friday.
The rumor can be linked to the recent decision by
Netflix
CEO
Reed Hastings
to step down from the board of directors at Microsoft. Essentially, the logic follows that if Microsoft was considering a serious bid for Netflix, then Reed Hastings could not be on the board whilst such discussions were under way.
Alternatively, however, Hastings may have stepped down for personal reasons, or might have found Microsoft's increase push into content as too competitive to stay on the board.
Microsoft has also made it company policy to acquire popular web services recently, paying a cool $8.5 billion for Skype last year, and we will all remember the multiple Yahoo takeover sagas that amounted to nothing. Microsoft can certainly afford Netflix, reportedly hoarding
almost $69 billion in cash and investments
.
We'll have to wait and see.