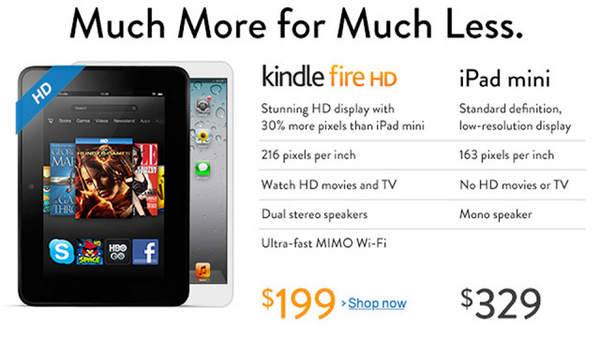 While the "attack" is tame compared to Samsung's recent ad campaigns, it does take a shot at how little
Apple
is really offering with its new tablet.
The Kindle Fire HD sells for $199 while the new iPad sells for $329. The Kindle has a better screen
resolution
and a better PPI to go along with its dual speakers.
Amazon also added a quote to the homepage, from a Gizmodo article it appears:
"...your [;] 7.9-inch tablet has far fewer pixels than the competing 7-inch tablets! You're cramming a worse screen in there, charging more, and accusing others of compromise? Ballsy."
Apple stepped into this world with its latest tablet, and should likely expect more heat from rivals, including Google,
Samsung
and Amazon.