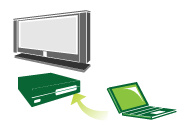 Certifications double since 2010.
The Digital Living Network Alliance (DLNA) has announced that the number of A/V produces getting DLNA certification has doubled since 2010. DLNA has Certified more than 500 AV systems to date, providing consumers with the ability to enjoy music and video content on a range of consumer electronics products throughout the digital home.

DLNA certified devices can be a digital media player or renderer, allowing consumers to control their integrated home theater systems by easily browsing, playing and controlling video or music from DLNA Certified products such as Blu-ray players, laptops, mobile phones, tablets and televisions.

With nearly 20,000 DLNA Certified device models, consumers can enjoy their music and video content on AV systems from an array of DLNA Certified products.

DLNA equipment is made by Harman International, Huawei, LG, ONKYO, Philips, Pioneer, Sony, Yamaha and others.

"AV devices have become a vital component of today's connected home," said Nidhish Parikh, chairman and president of DLNA.

"Consumers are demanding more from their digital content and are looking for ways to access media from multiple devices on their home network. DLNA Certified AV systems are able to communicate with other consumer electronics such as smartphones, tablets, televisions and NAS devices, effectively expanding the boundaries of the digital home through easy interoperability."