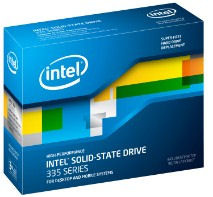 Intel unveils SSD 335 series.
It is the first SSD shipped by Intel that uses an using industry leading 20-nanometer (nm) NAND flash memory process. The 6Gb/s SATA SSD 335 series comes in a 240 gigabyte (GB) capacity that performs 500 megabytes-per-second (MB/s) sequential reads and 450 MB/s sequential writes to provide users a blend of cutting-edge performance and Intel quality.

The 20nm NAND flash memory process was jointly developed by IM Flash Technologies (IMFT). It uses a new cell structure that enables more aggressive cell scaling than conventional architectures. The 20nm 64Gb NAND uses a planar cell structure -- the first in the industry -- to overcome the inherent difficulties that accompany advanced process technology, enabling performance and reliability on par with the previous 25nm generation.

"The Intel SSD 335 uses Hi-K/metal gate planar cell technology, which overcomes NAND process scaling constraints to deliver the smallest-area NAND cell and die in the industry," said Rob Crooke, Intel vice president and general manager for the Intel Non-Volatile Memory (NVM) Solutions Group.

"By pushing technology constraints and using process innovation, Intel can continue to progress SSD technology and pass along savings to our customers."