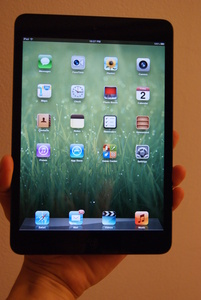 Apple
has announced that they sold 3 million new fourth generation iPad and iPad Mini in the first weekend of availability.
That figure is double the company's previous record of 1.5 million third-generation iPads sold in March.
The company did not differentiate sales between the two tablets, but the rumor is the Mini sold better than its expensive older brother.
"Customers around the world love the new iPad mini and fourth generation iPad,"
said
Tim Cook, Apple's CEO.
"We set a new launch weekend record and practically sold out of iPad minis. We're working hard to build more quickly to meet the incredible demand."
Apple sold out of its pre-order iPad Mini units in under a day, with shipping times now over two weeks for delivery. Apple does not count an online sale until it actually ships, meaning the 3 million figure could be a lot higher.
Read our new review of the iPad Mini here:
Review: The iPad Mini