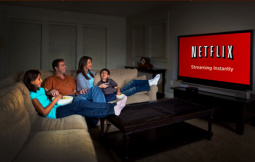 Netflix CEO Reed Hastings has said Amazon will one day be a real competitor to them, but they will need to keep spending to do so.
The executive says
Amazon has been losing up to $1 billion a year as it looks to acquire
streaming
video content rights.
Hastings based his numbers on content deals that Amazon won over Netflix when they competed head to head earlier this year and last year.
Netflix says it will spend $2.1 billion next year on content.
According to recent figures, Amazon Prime only controls 1.8 percent of Internet traffic compared to Netflix's 33 percent. Netflix has over 27 million subscribers, paying $8 per month for the service. Amazon has not revealed how many Prime members they have. Prime costs $79 per year and includes unlimited streaming and free 2-day shipping on all Amazon-sold products.