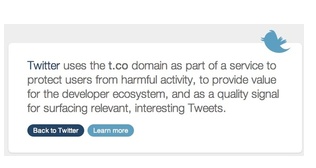 Twitter has announced this week that the official URL shortener, t.co, will increase its character usage by 2.
Starting in February
, the shortened link will move from 20 to 22 characters for non-HTTPS links and obviously from 21 to 23 for those with secure links.
While Twitter will not have to worry about running out of the number of different URLs that can exist now, users may have to be a little more cautious when writing slightly longer tweets if there is a link there.
Additionally, users can still use other link shorteners such as bit.ly.
The move is permanent starting February 6th.