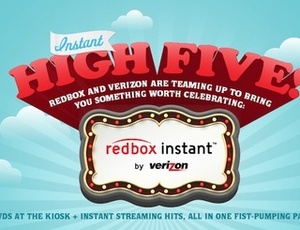 Verizon's
streaming
movie service, Redbox Instant, will go out of beta in March.
The service, which directly competes with Netflix and Amazon, has one distinct advantage. Redbox has 42,600 kiosks around the nation, and subscribers to the streaming service get codes for 4 free rentals every month including brand new releases.
At $8, the service is the same price as Netflix, which charges an additional $8 if you want access to DVDs by mail.
Says
Redbox Instant by Verizon CEO Shawn Strickland:
"We're doing the invitation-based beta now...but we will launch sometime later this quarter. Movies are the core of the Redbox brand, and movies are underserved in this space."
Currently, the service has 7500 streaming titles, less than a third of Netflix and Amazon's catalogs.