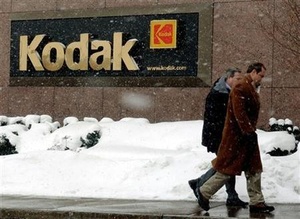 A group led by Google and
Apple
have been
approved
to purchase Kodak's patent portfolio for $527 million.
The photography
pioneer
is looking to exit bankruptcy, and the patent sale was one of the final remaining hurdles to do so.
While the figure may seem significant, Kodak's advisory firm had estimated the patents could bring in $2 billion when accounting for future licensing. No one bid higher than $527 million and Kodak had zero leverage.
The group also includes RIM, Facebook,
Microsoft
, Amazon, Shutterfly,
HTC
and
Samsung
, each of which will license the patents equally to help avoid patent litigation into the future.
Kodak's portfolio includes 1,000 patents each related to the
capture
, manipulation and sharing of digital images.