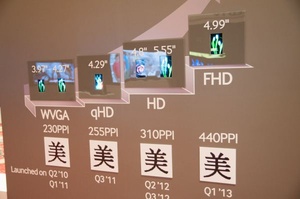 Samsung
has confirmed their 5-inch
1080p
SuperAMOLED display.
The screen will have 440 PPI, and will keep the company current with other manufacturers that have released similar displays, including
Motorola
and
HTC
.
Compared to previous models, the new sAMOLED has 25 percent power savings, and can see up to 47 percent power savings in "low power mode."
The display has long been rumored for the upcoming Galaxy S IV, which is expected to be unveiled in March.
Mass production on the 5-inch display is expected by the end of this quarter,
reads
a
CES
slide.