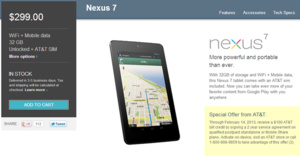 In an effort to push customers into a contract, AT&T is offering a special deal on the Google Nexus 7 tablet.
Reads AT&T's note:
Special Offer from AT&T:
Through February 14, 2013, receive a $100 AT&T bill credit by signing a 2 year service agreement on qualified postpaid standalone or Mobile Share plans. Activate on-device, visit an AT&T store or call 1-800-908-9859 to take advantage of this offer (3).
The model available is the "WiFi + Mobile data, 32
GB
, Unlocked + AT&T SIM."
Overall, the minimum cost of the data for 2 years is $240 so the deal only seems viable if you are guaranteed to use the device, with data, for two years.
Check it here:
Google Play Store