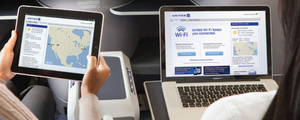 United Airlines has announced the introduction of satellite-based Wi-Fi for international flights.
The move is the first for a U.S.-based international carrier.
Boeing 747-
400s
that serve both trans-Atlantic and trans-Pacific routes will be the first with the technology. Each will be equipped with
Panasonic
Avionics Corporation's Ku-band satellite technology.
"Satellite-based Wi-Fi service enables us to better serve our customers and offer them more of what they want in a global airline,"
added
Jim Compton, our vice chairman and chief revenue officer.
"With this new service, we continue to build the airline that customers want to fly."
Depending on how long the flight is, costs will vary. For "Standard" speeds, the prices are between $3.99 and $14.99 and "Accelerated" speeds will cost between $5.99 and $19.99.