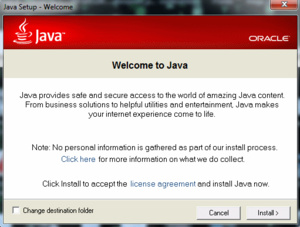 Oracle forces out updates early.
The Critical Patch Update for Java SE was scheduled for February 19th, but
Oracle
decided that it simply could not wait that long. One serious vulnerability that affects the Java Runtime Environment (JRE) in Desktop browsers is being actively exploited in the wild, causing quite a stir and prompting some browser vendors to disable Java by default in their browser updates.
All in all, the patches released by Oracle include 50 security updates across its Java SE products. If you have Java software installed then you will be prompted eventually by the update utility that is installed and runs by default on start-up.
Alternatively, you can get the
Java(TM) SE Runtime Environment for Windows v7 update 13
from AfterDawn, or the
64-bit version for Windows
.
For more information, see the Oracle Java SE Critical Patch Update Advisory for February 13 from
here
.