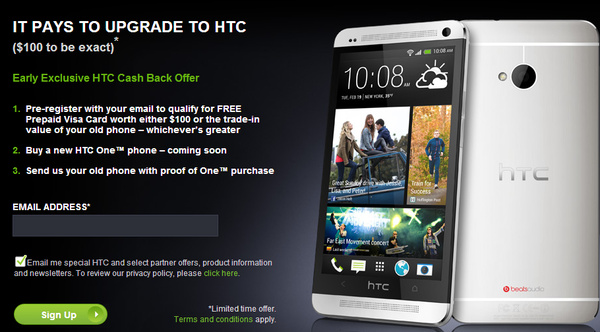 Earlier today we reported on HTC's launch of the new "One" flagship smartphone, a powerful device with a few notable features including a high ppi display, an "ultrapixel" camera and a built-in IR transmitter.
The company has also introduced a new trade-in program offering $100 to smartphone owners who want to upgrade to the One.
All you have to do is register your email to qualify and then purchase a One when it becomes available.
Afterwards, when you receive the new device you can ship back your old phone along with proof of the new One and get a $100 Visa prepaid card. If your device is not worth $100 elsewhere and you were looking to upgrade this is a good deal, but if you think you can get more than $100 for your phone than it is probably smart to do that.
HTC
says the offer is limited and it is unclear when the promotion is over.
If you are interested, check it here:
HTC One Trade-In