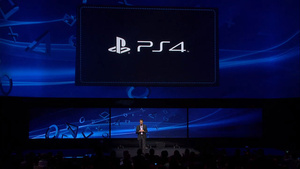 Sony has officially announced the PlayStation 4 console at an event in New York, confirming many previous rumors and leaks.
Andrew House
, CEO and President of Sony Computer Entertainment (SCE), gave some hardware details for the upcoming console. It will use an x86 CPU as a nod to easier development for the console, and will pack 8GB of RAM.
It will include local storage - no information on how much just yet - and has a high performance graphics card with GDDR5 memory. The system allows you to simply Suspend it - mid-gameplay - and Resume it later. The state of your console will be stored in RAM, so you do not need to wait for the console to boot, and then load the game and load your save.. it will just continue from where it left off.
The new DualShock 4 controller has the Share button that we all already knew about, enhanced rumbling, a headphone jack and is tracked by a camera that is still in development. PlayStation Move will be supported on PS4.
Thanks to Gaikai, if you have a PSVita, you will be able to use it for Remote Play from the PS4, and eventually will be able to stream older PlayStation titles to the PS4 from the cloud.
The PlayStation 4 will allow you to play games as you download them, and has dedicated hardware that will handle game updates and other such annoyances in the background. The console makes it easy to connect directly with friends, building social networking right into the experience.
Friends can watch you play - or vice versa - through streaming video, and can even take over the controls.
The event hinted at a Holiday 2013 release, but nothing more specific, which strongly suggests that E3 will be the venue for release and price information. Sony probably wants to see as much of Microsoft's hand as it can before it decides on those details, while the rest of us watch the clock tick by in frustration.
Sadly - but predictably - we didn't see a PS4 tonight but with all the mentions of "running on prototype hardware", any tiny hope that we would was quickly diminished. Larry Hryb, aka Major Nelson, already fired one shot at Sony about the lack of hardware on Twitter..
Announce a console without actually showing a console? That's one approach

-- Larry Hryb (@majornelson) February 21, 2013
Roll on E3 then!