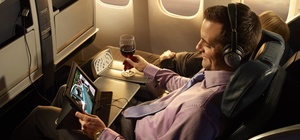 Senator Claire McCaskill has stated this month that she will write a new bill that will allow passengers to use their electronics during all times of their flight.
In a letter to FAA Administrator Michael Huerta, the democrat cited her "concern" with the admin's "lack of direct engagement" on expanding the long-standing rules on electronics use during takeoff and landing.
The current set of rules, which bans passengers from using their phones, tablets, e-readers and other electronics below 10,000 feet is "preposterous," says McCaskill. The new rule would not apply to cellphone use, however, which would still be banned.
McCaskill first began discussions with Huerta in December and received a response in February that the FAA shared an "interest in taking a fresh look at these issues." The FAA is collecting comments from the aviation and technology industries and has also created the Aviation Rulemaking Committee with recommendations expected by the end of July. McCaskill does not think that it quick enough.
"I didn't think it said anything,"
McCaskill
said of Huerta's response
.
"It just basically said, 'We're in a process and we're looking at the process.' So the next step in the process is calling the stakeholders in ourselves and beginning to try to pull together the right legislation."