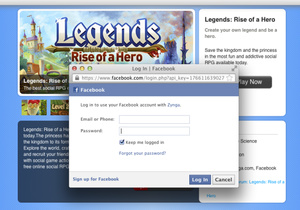 Zynga has announced this week that it is making its Facebook login requirement for Zynga.com now optional.
Beginning on Monday, gamers will no longer need to have a Facebook account to play the games at Zynga.com and can use new dedicated Zynga usernames and passwords.
Reads the press release:
Starting next week, when you visit Zynga.com you will see a new streamlined signup that lets you create your own account just for playing games. We also wanted to make sure that existing Zynga.com players continue to have the best experience possible so you don't have to start from scratch. All players will have the option to connect with Facebook and keep your game friends and game progress, while deciding what you share with your gaming community.

We thank you for the valuable feedback and hope you enjoy what we believe is a natural evolution of Zynga.com. We've kept a lot of the great features like live Social Stream, Fast Load and Online Presence which lets you see who else is playing right now. Some of your favorite games will be on the new site at launch and we will continue to work hard to bring you more great games and new features over the coming weeks and months.
(Pic via
Cnet
)