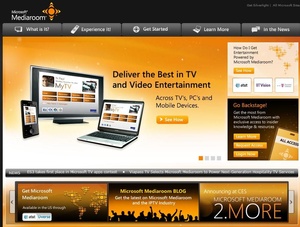 Ericsson is in active talks to buy Microsoft's IPTV business, MediaRoom.
The division currently creates software used to deliver TV over the Web.
Microsoft
has large clients such as AT&T.
A deal could be announced in the coming weeks, and could net Microsoft $1 billion, or higher. Annual sales have been around $350 million per year for the last three years.
"This would make sense for Ericsson as it provides for a more complete offering,"
said Alexander Peterc
, an analyst at Exane BNP Paribas.
"Still, the technology started to get hyped about 10 years ago and may have reached its peak already, so I don't see this as a growth market."
100 million people will use IPTV services from phone companies this year, but most of the growth is in China and Japan. In the U.S., AT&T offers MediaRoom via its U-Verse service. U-Verse had 4.5 million subscribers at the end of 2012.