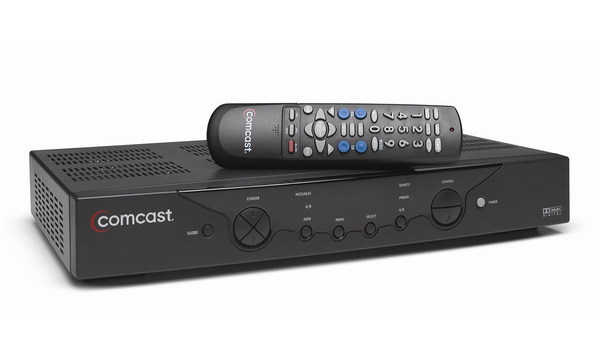 Comcast has begun telling customers that it is preparing to encrypt its basic cable signals, meaning some customers will need a new digital adapter if they want to even receive any basic programming.
The adapters will be free in some markets, and one model will work with third-party set-top boxes, like those by Scientific Atlanta and
Motorola
.
If you already use Comcast set-top boxes connected to all your TVs, you need not worry, but if you have any devices connected directly to the cable outlet without a set-top, you will need the adapter.
The adapters will be tiny boxes that include their own remote control and connect to the TV through the coaxial cable.
"We are beginning to proactively notify customers in select markets that we will begin to encrypt limited basic channels as now permitted by last year's FCC B1 Encryption Order,"
said the company (
via OM
).
"While the vast majority of our customers won't be impacted because they already have digital equipment connected to their TVs, we understand this will be a change for a small number of customers and will be making it as convenient as possible for them to get the digital equipment they may need to continue watching limited basic channels."
Comcast is the first to scramble the signals since the FCC changed the rules to allow such a move last year.