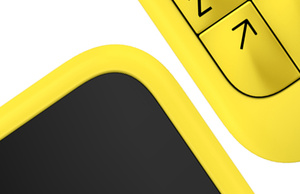 Nokia
has teased their latest feature phone, set for launch tomorrow.
The teaser reveals a standard Nokia design with rounded corners and colorful hardware.
By showing off a Z and Shift key, it is clear the device will feature a full QWERTY keypad, a feature rarely seen nowadays.
Most expect
the device to be similar to the company's popular
Asha 205
, and the announcement is coming from the Mobile Phones team, guaranteeing it is not a
Lumia
phone.
Nokia's feature phones have been aimed at emerging markets in Asia, Europe and Africa.