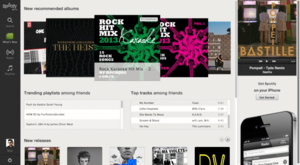 Spotify
has
quickly patched
its Web player to block the Chrome extension "Downloadify."
The extension had allowed users to download any song available via the
streaming
service as an
MP3
.
Apparently there had been no encryption in Spotify's web player, which was launched about six months in the U.S. and UK. The new patch adds encryption.
Although Google took down the extension, it is still available via GitHub. All users had to do after installing the extension was begin playing the song they wanted and a full, DRM-free file was downloaded.