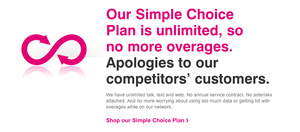 T-Mobile USA released their Q1 earnings this week, showing strong sales of the iPhone since launch on April 12th.
While the iPhone was not part of the quarterly earnings, the carrier proudly boasted the figure. Overall, revenue fell 7 percent year-over-year for the quarter ended March 31st.
Adjusted earnings were $1.2 billion, which was also down a bit over 7 percent year-over-year.
T-Mobile USA was recently spun off from parent Deutsche Telekom after its acquisition of major pre-paid player MetroPCS
"Our first quarter operating metrics and financial results are showing positive impact from the changes we began making in the fourth quarter,"
CEO John Legere said in a statement.
"Things only get more exciting from here, having brought T-Mobile USA and MetroPCS together to create the wireless industry's value leader and premier challenger."
The company
saw a boost
of 579,000 total subscribers in the quarter, losing 199,000 contract subscribers.