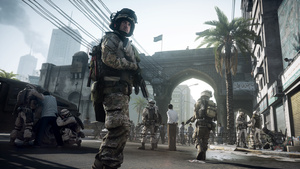 EA has blamed a distributed denial of service (DDoS) attack on its servers for connection issues experienced by Battlefield 3 gamers yesterday.
The publisher used its Twitter account to explain the situation to frustrated Battlefield players.
"The current BF3 and Battelog outages are a result of activity that appears to be aimed at overwhelming our game servers,"
it said.
"Thank you for being understanding. We are going to try our best to get everyone back onto the battlefield as soon as possible."
DICE and EA also decided to
postpone the Battlefield Double XP event
scheduled to run from May 9 to May 13 due to the issues.
So, are we really ready for always-on gaming?