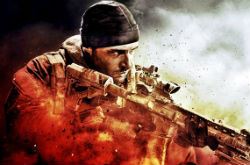 Electronic Arts has said it dropped licensing deals with the manufacturers of weapons, citing constitutional rights.
The publisher was criticized for offering links to real-world weapons ahead of the
Medal of Honor: Warfighter
release, and responded by removing all links to external arms vendors and purging blog posts that endorsed firearms.
EA executive
Frank Gibeau
told
Reuters
that its gamers are
"telling a story and we have a point of view,"
and points out that a book author does not need to pay to use the word
"Colt."
EA is already engaged in a simial legal battle in U.S. courts, after it
received a cease and desist letter
from Bell Helicopter for "using" the AH-1Z Viper, the UH-1Y, and the V-22 Osprey in Battlefield 3.