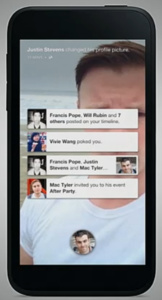 AT&T has dropped the price of the HTC First handset running Facebook Home from $99.99,
to just $0.99
.
The carrier - second largest in the U.S. market - argues that price cutting promotions are not that unusual, but the proximity to the launch of the phone is raising eyebrows. The HTC First, which bundles Facebooks environment and apps, was launched less than a month ago and is available exclusively through AT&T.
"The final verdict on Facebook Home was brutally handed down yesterday with AT&T slashing the price of the HTC First from $99 to $0.99,"
Richard Windsor
, an independent analyst, said on his
Radio Free Mobile
blog in as post titled
'Facebook - Jack of one trade.'
"If this was an isolated incident, then one could put it down to poor hardware, but installations and reviews of the software on other devices have also been poor."
Facebook looks to the mobile space as an area for potentially strong growth over the coming years.