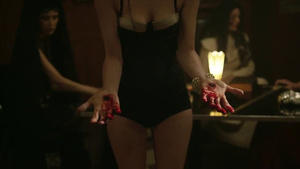 YouTube removed David Bowie's latest music video over
"graphic content"
that consisted of religious imagery, before admitting it was in error and reinstating it.
The Next Day
is the latest video from Bowie from his comeback album of the same name. It features Gary Oldman and Marion Cotillard - the latter appearing to bleed from Stigmata wounds. The video had been removed from YouTube initially over its apparent
"graphic content"
, but was later restored.
"With the massive volume of videos on our site, sometimes we make the wrong call. When it's brought to our attention that a video has been removed mistakenly, we act quickly to reinstate it,"
a
YouTube spokesman said
.
The video is set in a basement bar occupied by religious figures, and shows a priest (Gary Oldman) fighting and then dancing with a prostitute.