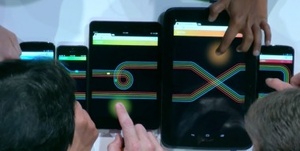 Sundar Pichai, Google's senior vice president for Chrome and
Android
, announced today the Chrome has reached 750 million monthly active users, gaining an incredible 300 million in the last month.
Unsurprisingly, most of the growth is coming from mobile, where the company continues improve their Chrome mobile app almost weekly.
During the presentation the exec says Google is aiming to improve the browsing experience in a "multiscreen world." One example is the browser will be able to mimic actions on different devices, such as a game on their tablet will sync instantly to their desktop browser, mimicking all controls.
Performance updates have been substantial,
as well
, with the mobile app seeing an improvement by "more than 50 percent."
By some accounts, Chrome is the most popular browser in the world, followed by Internet Explorer and Firefox.