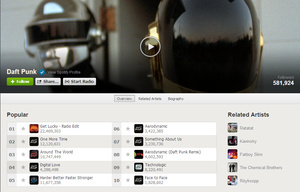 Spotify
has announced they will be updating their desktop standalone application to display play counts for popular tracks when viewing the songs via an artist's profile.
Some users have already gotten the update but Spotify says it will take a couple of weeks to roll out.
"We're committed to making Spotify even more artist and fan-friendly and showing play counts is a clear step in that direction,"
said the company
.
"Now artists can get immediate feedback on how their music is performing on Spotify and fans can keep up to date with popular tracks."
The play counts are global.
In the screenshot below, you can see Daft Punk's latest,'Get Lucky,' has already been played over 22 million times.