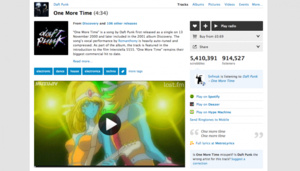 Last.fm has announced a new partnership today with MUZU.TV that will add 90,000 music videos to its Internet radio service.
The deal
will add videos to each artist's profile page.
Currently, the deal is only good for European users, but Last.fm says support for other countries is coming very soon. It is unclear if the U.S. is part of the plans.
As part of the deal, MUZU will also get support for Last.fm's "scrobbling," which helps track your viewing and listening habits.