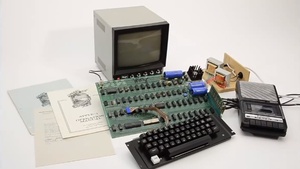 German auctioneer Breker has said today that an Asian client has purchased a functioning 1976
Apple
I at a record price.
The anonymous buyer paid 516,000 euros (about $668,000) for the device
, which was built by company founders Steve Jobs and Steve Wozniak.
Breker sold another of the devices last year for 492,000 euros, and there are said to be only 6 functioning models in the world.
The Apple I, which sold for $666 at the time, was only a circuit board with all "accessories" like a case, keyboard or monitor had to be purchased separately.
This week's auctioned model has Wozniak's signature and includes an old business transaction letter from Jobs.