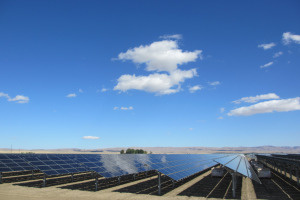 Google has expanded its clean power projects to Africa for the first time, investing $12 million in a 96 MW solar panel farm in South Africa.
When completed, the "Jasper Power Project" will "be able to deliver enough clean power for the equivalent of 30,000 South African homes and will be built in the Northern Cape province near the town of Kimberly," says
Om
.
U.S.-based solar developer SolarReserve has joined up with South African companyies Intikon Energy and Kensani Group to build the farm.
Altogether, the Jasper farm will cost $260 million, and they have received financing from the Public Investment Corporation, Development Bank of South Africa and the PEACE Humansrus Trust.
State-owned utility Eskom will buy the solar power from the farm when it is up and running.