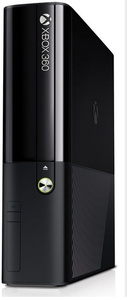 After teasing that they would be making
Xbox 360
announcements before moving on to the Xbox One,
Microsoft
has not disappointed.
During their E3 keynote, the company unveiled a smaller and supposedly quieter model of the hardware, available today in the U.S.
The console has a glossy and matte design like the Xbox One and Xbox Gold users can get free games each month and "hundreds of upcoming games" including GTA V and
Metal Gear Solid
V.