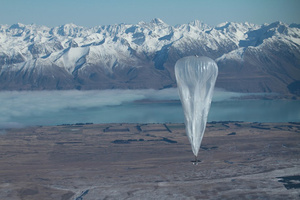 Google has introduced Project Loon, an ambitious project that would provide Internet access from high up in the atmosphere to regions of the world where affordable access is too expensive or impossible.
The idea sounds crazy, and Google admits that it is called Project Loon because it is crazy. However, there is solid science behind it, Google asserts.
Google believes that it is possible to build a ring of balloons that would fly around the world on the stratospheric winds, way high up in the atmosphere beyond even commercial airliners. These balloons could beam Internet access to the ground at speeds around those offered by 3G connections, or better.
"As a result, we hope balloons could become an option for connecting rural, remote, and underserved areas, and for helping with communications after natural disasters,"
Google's
Mike Cassidy
, Project Loon leader, said.
There are of course many challenges associated with this approach, though Google feels it is finding solutions to them. Using just wind and solar power, Google believes it can actually move the balloons in the sky up or down to catch winds they want them to travel in, allowing Google to control their path in the sky.
The project is also currently working hard on solutions to find out how to manage a fleet of balloons sailing around the world so that each balloon is in the area you want it right when you need it.
At the moment, it is carrying out a test in New Zealand that involves 30 balloons and 50 testers attempting to make contact with them.
It may in fact be a completely loon idea, but if it works it could be a huge boost to underserved areas of the world, or places where Internet services are far beyond affordable, and of course in natural disaster areas where conventional services have been taken out.
Here's a couple of videos explaining Google's plans.
Introducing Project Loon


Project Loon: The Technology