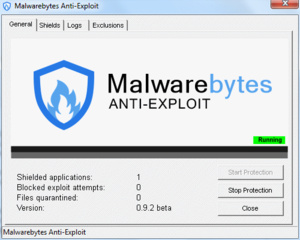 Malwarebytes has released a beta of its new
Anti-Exploit
tool, a result of its acquisition of ZeroVulnerabilityLabs' ExploitShield application.
Anti-Exploit
is not an anti-virus or anti-malware tool. Instead,
Anti-Exploit
runs in the background and monitors some popular applications, preventing vulnerabilities in the software from being exploited. This could be, for example, an attempt to exploit a bug in a web browser that used a maliciously crafted website.
It does not need to download large amounts of definitions every day to work either, it can even be effective at blocking the exploits of vulnerabilities that are not known about by the vendor of the software.
The tool is made with simplicity in mind; simply run the installer and it will then run in the background automatically. If you check the System Tray, you will see an icon that you can double-click to bring up the user interface of Anti-Exploit, allowing you to enable/disable protection, view a list of applications it protects against exploitation, view a log of blocked exploit attempts and set any exceptions that you would like.
In this BETA of
Anti-Exploit
, the following apps are protected: Mozilla Firefox, Google Chrome, Internet Explorer, Opera, Java, Adobe Acrobat, Adobe Reader, Foxit Reader, Microsoft Office Word, Microsoft Office Excel, Microsoft Office PowerPoint, Windows Media Player, VLC Media Player, Winamp Player, QuickTime Player, Windows Script Host and Windows Help.
You should note that while Anti-Exploit is a very interesting method for blocking exploitation of applications, it should never be used as an alternative to keeping your system (OS, applications, browsers, plug-ins etc.) up to date with the latest patches.
Malwarebytes Anti-Exploit is available for free at least during BETA.
Download it from:
Malwarebytes Anti-Exploit BETA