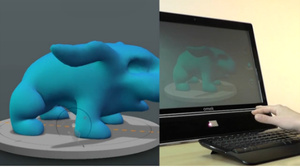 Intel
has acquired gesture computing firm Omek.
The talks are said to have begun in March, and grinded on until this week.
Most reports have the purchase price in the range of $30 million to $50 million. The firm had raised $14 million since its inception, so it appears investors will make some good returns.
Omek will move all their employee's to Intel's computing division in Haifa, Israel.
The move "will help Intel push through barriers with perceptual computing, and gesture recognition with 3D cameras will all go towards improving the overall user experience of portable and desktop devices," say the
reports
.