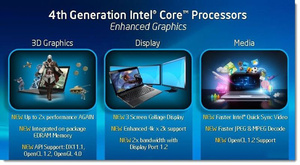 Intel
has teased today the existence of a new Haswell-based chip that can fit into ultrathin devices and will not require fans for cooling.
Earlier this year at Computex, the company showed off a fanless tablet that was met with intrigue.
Intel says the new chips run at a "scenario design point" (SDP) of 4.5 watts, allowing it to run comfortably cold if the chassis is designed to cool 4.5 watts of heat.
Verge
adds
that "the silicon can actually boost speed higher for short periods as the temperature allows, it gives manufacturers flexibility to limit the processor to fit in smaller devices."
Intel managed to bring its Ivy Bridge processors down to the 10-watt thermal range, and Haswell was 6 watts at launch.