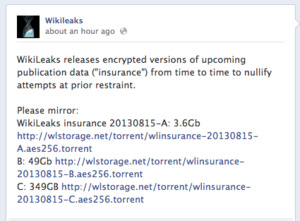 WikiLeaks has released a massive 400GB encrypted file that it claims is 'insurance' to 'nullify attempts at prior restraint.'
The group posted the links to
Facebook
and Twitter and asked fans to download and mirror them wherever they choose.
All of the files remain encrypted with Advanced Encryption Standard-256 bits, and WikiLeaks has not released the key. They may never release the key, either.
It is unclear what is in the files but the speculation is it is the full NSA files partially released by Edward Snowden earlier this year.