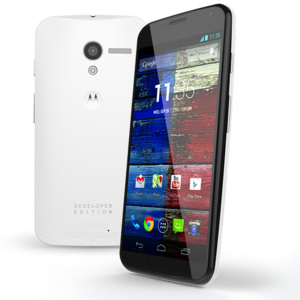 Just days after Motorola's VP of Product Management Punit Soni confirmed developer editions of the Moto X were "days away,"
Motorola
has updated their "Ways to Buy" page with the new phone.
The developer edition has a black front case along with a white woven rear plate. Additionally, "DEVELOPER EDITION" is engraved on the back.
That two-tone colorway will be different than what is available through carriers,
as the page says
the dev edition will "have a look all its own." That being said, once the full MotoMaker is up and running, you can likely create something exactly the same.
The dev edition has an unlockable bootloader, and 32GB internal storage.