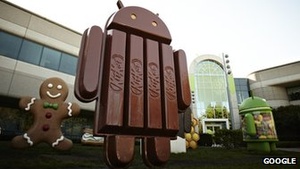 Google made a surprise move today, changing the name of their upcoming operating system from Key Lime Pie to Kit Kat, as part of a marketing deal with Nestle.
The OS, which will be either
Android
4.4 or 5.0, had been long confirmed by the media as Key Lime Pie until just this week, when Google added a giant Android mascot statue made of KitKat bars on their campus.
Despite the obvious cross-marketing involved, the company says neither side is paying the other for use of the brands:
"This is not a money-changing-hands kind of deal,"
said John Lagerling, director of Android global partnerships.
"We wanted to do something fun and unexpected"."
Lagerling says the decision was made last year to call the OS KitKat, even though developer files and documents continued to use KLP.
"We realised that very few people actually know the taste of a key lime pie,"
he added (via
BBC
).
"One of the snacks that we keep in our kitchen for late-night coding are KitKats. And someone said: 'Hey, why don't we call the release KitKat? We didn't even know which company controlled the name, and we thought that [the choice] would be difficult. But then we thought well why not, and we decided to reach out to the Nestle folks."
Nestle agreed within the hour, adds the exec.