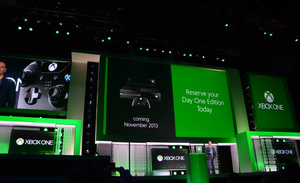 Microsoft
has finally announced the release date of the Xbox One console.
The system will go on sale on November 22nd, a week after the PlayStation 4 does in the U.S. and Canada.
Gamers in the UK, Ireland, Austria, France, Germany, Italy, Spain, US, Canada, Mexico, Brazil, Australia and NZ will see the console on the 22nd, at a cost of $499 /€499 / £429. Notably missing is Japan, which the
Xbox 360
bombed in, but is a large territory for gamers as a whole.
Microsoft has called the release a "global launch" although the initial rollout was supposed to be larger. "Many more markets" will receive the console next year, adds Microsoft Xbox boss Larry "Major Nelson" Hryb.
The company
also confirmed
that the console is in full production and that the processor clock speed has been tweaked to 1.75GHz from 1.6GHz. "It means that the processing power to make those games that we've been showing off at Gamescom that already look great will look even better," corporate marketing VP Yusuf Mehdi added.
Buyers will receive the console,
Kinect
2.0, a headset and one wireless gamepad.