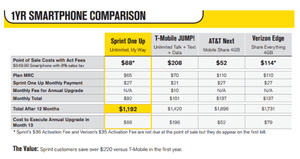 Following the launch of T-Mobile's Jump early upgrade program, rival carriers have scrambled to unveil their own services.
It is Sprint's turn now, with the company ready to debut 'One Up' on September 20th, say
reports
.
As with other services, customers will pay monthly installments for their new phones and have the ability to trade it in every year for a new one at no extra charge.
Making 'One Up' different is that, unlike T-Mobile, there is no additional fee per month. T-Mobile costs $10 extra per month to sign up for the program. Verizon and AT&T don't offer any discounts on your monthly service plan, but One Up does.
When broken down, One Up charges about 50 percent of the phone's retail price to let you use it for a year, before you can trade it in.