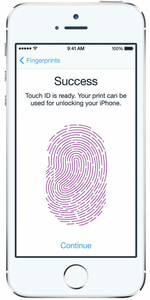 Apple's TouchID fingerprint reader and authentication system will be a fun challenge for hackers after the launching of a crowd-funding effort to provide motivation.
IsTouchIDHackedYet.com
has been launched by security researcher
Nick Depetrillo
and
Robert David Graham
, listing pledges from Twitter users to provide money (including BitCoin) and other prizes - like a bottle of wine and a
"dirty sex book"
- for whoever can demonstrate a working hack of the feature.
In order to be in with a shout of getting some rewards, the hacker will need to provide proof of a method to break into an iPhone 5s by lifting prints from other surfaces, like a glass, and using it somehow for authentication.
Fingerprint scanners have been defeated quite easily in the past. Mythbusters even beat one by simply printing out a finger print and using the print-out.
Apple insists however that TouchID is special, claiming it can't even be beaten by severed finger.
According to comments given to
Forbes
, Depetrillo decided to go ahead with this challenge because he has so much faith in the TouchID system not to be easily beaten, but that being proven wrong will be a
"pleasant surprise."
Of course, pledges made by Twitter users aren't set in stone, but the largest pledge so far came from
Arturas Rosenbacher
of
IOCapital
, which has put up $10,000 for the first person to break TouchID.
On behalf of @IOCapital, we are pledging $10,000 to the #IsTouchIDHackedYet, and supporting this wonderful crowdsourced security campaign!

-- Arturas Rosenbacher (@Arturas) September 19, 2013
Happy Hacking!!