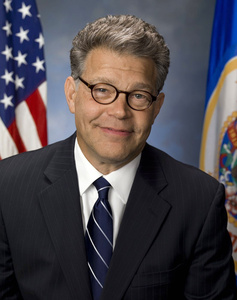 U.S. Senator Al Franken has written a letter to Apple CEO Tim Cook requesting information about Apple's Touch ID fingerprint technology.
Franken asks Cook questions that Apple may have already answered in its PR campaigns about the iPhone 5s and the safely of the Touch ID fingerprint technology.
The Cupertino-based giant assured users that fingerprint data is safely stored in the A7 SoC that powers the iPhone 5s, and that it is stored as mathematical data. Franken asks Cook in his letter if it is at all possible that the fingerprint data could be converted into a digital or visual format, and whether the raw information could be extracted from an iPhone, which Apple doesn't think likely.
The senator also raised questions about Apple's ability to share fingerprint information with law enforcement or other federal authorities, asking Cook to provide assurances that Apple will never share fingerprint data with government agencies without due process.
However, Apple has already stated repeatedly that fingerprint data is stored in the A7 only, and is never backed up to iCloud or in any way transferred to Apple servers, or even to other devices.
"Passwords are secret and dynamic; fingerprints are public and permanent,"
wrote Sen. Franken.
"If you don't tell anyone your password, no one will know what it is. If someone hacks your password, you can change it--as many times as you want. You can't change your fingerprints. You have only ten of them. And you leave them on everything you touch; they are definitely not a secret. What's more, a password doesn't uniquely identify its owner--a fingerprint does. Let me put it this way: if hackers get a hold of your thumbprint, they could use it to identify and impersonate you for the rest of your life."
Still, it is a good thing that a senator will ask these questions, given that we do live in an era where privacy, data security and government surveillance are big concerns.
Apple's Touch ID technology is also the subject of a crowd-funded hacking competition, where the winner will
receive thousands of dollars, BitCoins and even alcoholic beverages
for demonstrating an effective attack against it.
Read more fron Senator Al Franken's website at:
franken.senate.gov