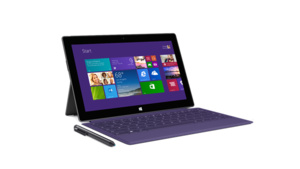 Alongside their announcement of a Surface RT sequel, the company also unveiled the sequel to their flagship, the Surface Pro 2.
The Pro 2, which comes with the full version of Windows including legacy app support for hundreds of thousands of your favorite applications, has seen its share of hardware updates, as well.
For the display, it remains a 10.6-inch panel with
1080p
resolution
, but
Microsoft
says the tablet has 50 percent better color accuracy and better graphics performance.
Under the hood is a 1.6GHz Core i5 Haswell processor which will give users 75 percent better battery life than the previous model, a huge boost. When added to the Power Cover (check our other post), the tablet will have over 300 percent better battery life than the first-generation model. For connectivity, the device has three USB 2 ports, a single USB 3 port, mini
DisplayPort
and
Ethernet
. There is an included stylus, as well.
The kickstand, which proved to be too feeble in most situations, has been updated to address the angle issues.
Using an external Microsoft dock, the Pro 2 can output to 3,840 x 2,160 resolutions on external displays and is fully capable of editing 6K video.
The base model (64GB/Wi-Fi/4GB
RAM
) starts at $899 but you can get up to 512GB/8GB RAM if you just won the Powerball.