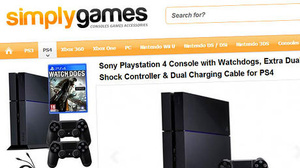 SimplyGames, the popular UK retailer, has been accused of profiteering over forcing customers to pay for an unofficial (and expensive) PS4 bundle if they want to keep their pre-orders.
Trading Standards, the group that enforces consumer related legislation in the UK, has said the practice is illegal and akin to profiteering. The group added that "swift injunctive action is needed" to block the retailer.
Earlier this week, SimplyGames shocked consumers by stating that anyone who pre-ordered a PS4 would need to pay £470 to stay in queue, being offered a number of bundles that are not affiliated with official
Sony
bundles.
"You can have a contract where the price agreed is the price at the time of delivery, such as a new car on a long waiting list. Here the seller cannot control the product price months down the line,"
says
Trading Standards Institute (via CVG).
"This appears to be profiteering. The seller is raising the price hoping people either drop out or pay more. If they drop out the seller can resell at a higher price to another customer. It is illegal and up to the Home Authority to intervene if the seller is UK based. This is one of those occasions when swift injunctive action is needed to prevent consumers being ripped off."