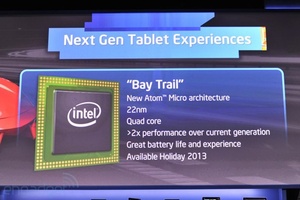 Intel
CEO Brian Krzanich says consumers should expect new lows in prices for their favorite electronics this holiday season.
The exec says he expects $99 tablets, $299 Haswell-based laptops, and $349 convertible hybrid tablets and laptops.
Bay Trail chips, the codename for the latest and most efficient processors, offer twice the built-in graphics capability and up to 50 percent better battery life than previous generation models and will be available by this holiday season.
"We continue to see touch adoption come along,"
Krzanich
added
, noting there will be 10 models available at $299 using the ultra-efficient chips.