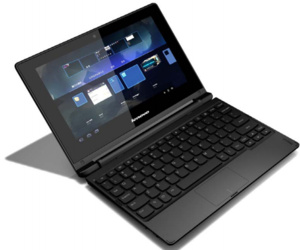 Although it had been leaked last month,
Lenovo
has now officially announced the A10 Android-based laptop.
The notebook runs on
Android
4.2, has a 10.1-inch
HD
display, a 1.6GHz quad-core Cortex A9 processor, 32GB internal storage and 2GB
RAM
.
Lenovo uses
a customized Android user interface when in 'laptop mode' including an app launcher, task bar, a status bar "for quick, intuitive access to the app library and desktop," and a built-in file manager that supposedly works like Windows search.
In addition, the device can be flipped to "stand mode," which is optimized for touch-enabled apps and entertainment and may not necessarily utilize the full-sized keyboard.
The convertible will go on sale in Europe, the Middle East, Africa and the Asia Pacific starting at $250 USD (equivalent).