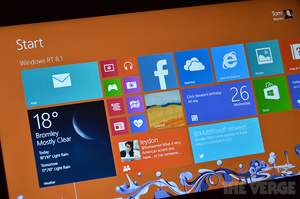 Microsoft
removed the Windows RT 8.1 update from its Windows Store earlier this morning, as they investigated a 'situation.'
Read the
post
:
"Windows RT 8.1. Microsoft is investigating a situation affecting a limited number of users updating their Windows RT devices to Windows RT 8.1. As a result, we have temporarily removed the Windows RT 8.1 update from the Windows Store. We are working to resolve the situation as quickly as possible and apologize for any inconvenience. We will provide updates as they become available."
It remains unknown what the real "situation" is that is keeping Microsoft from returning the download, but it follows reports that Windows 8.1 users were also having issues updating from Windows 8.
Reportedly, although unconfirmed by Microsoft, the update has been failing due to a boot configuration error.
(Pic via
Verge
)